Behind the Store: Conservatory Archives
11 Sep 2016
Horticulture has never been trendier, and if Instagram is anything to go by, plants are the new avocado. Right in the thick of this green-fingered movement is Jin Ahn from Conservatory Archives. Her store, which on Monday is full to the rafters with succulents and cacti of every kind, sells out by the end of the week. Recent collaborations with major retailers like COS and M&S have made Conservatory Archives one of London's trendiest plant stores. And this has all come about within a couple of months of Jin setting up her shop. We headed over to her green oasis on Hackney Road to find out what's behind it all.
You started out in Seoul, running your own clothing business. What made you decide to close that down and move to London?
You only live once, and I got an impulse to do something else. Running your own business is tough, and I could feel myself getting tired and bored so decided to shake it up. I always wanted to study horticulture, and I wanted to explore a new country, so I signed up to an agriculture college in Essex, and things started moving from there.
I knew I couldn't get a job working for someone else; I'm used to doing my own thing. That's where the idea to set up a plant shop came about. Initially, the concept was to create a plant and furniture shop, but it wasn't long before the plants took over. I now focus just on indoor plants.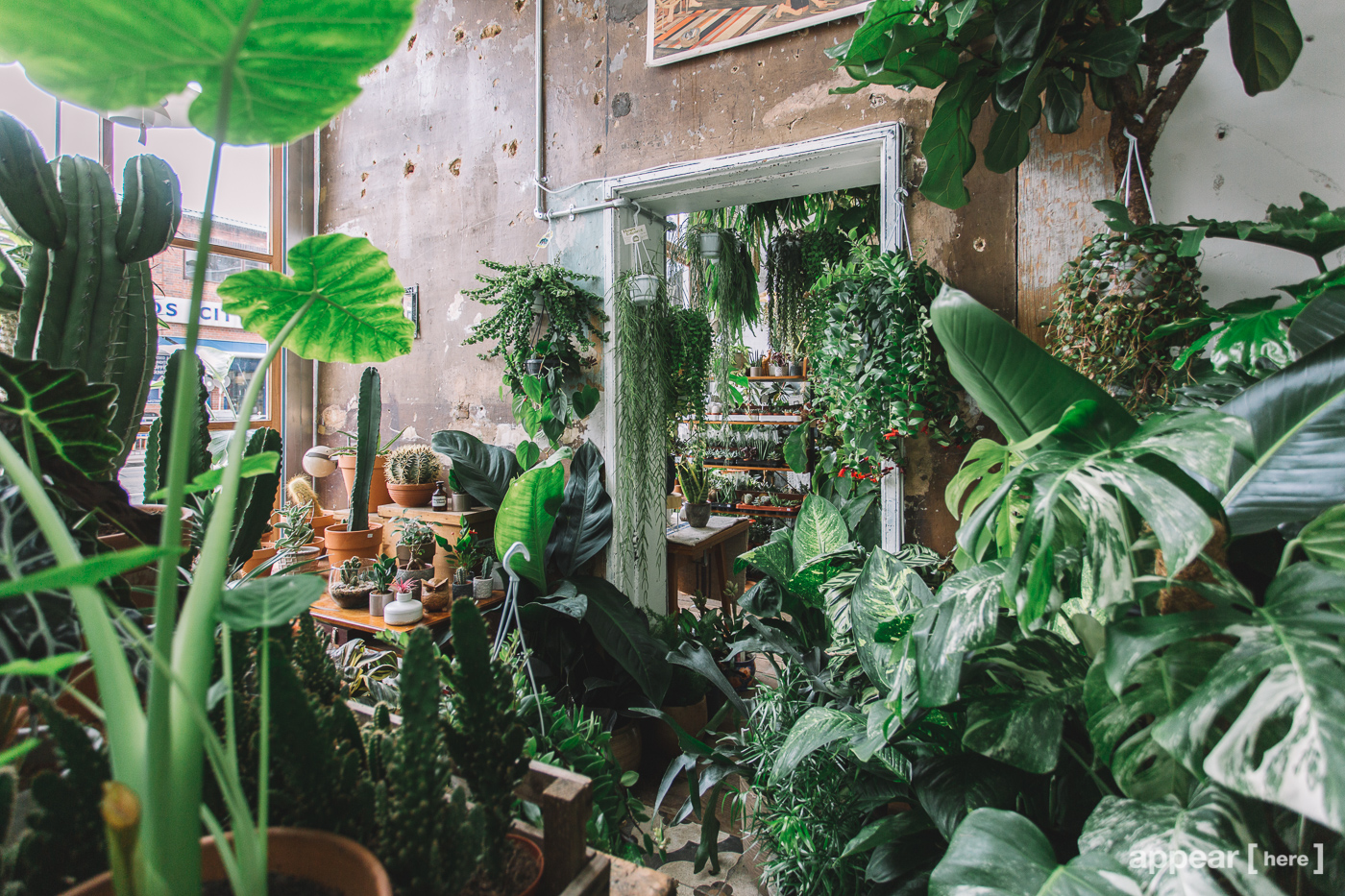 How did you discover your space?
I spent almost four months searching for it. I was travelling around London on a bus every day. At the same time, I was searching the internet. My biggest struggle was getting the attention of the agents. They just didn't get the concept and needed more proof that my business idea could work before they were prepared to talk. I eventually spotted this space on the 55 bus. I remember jumping off and taking down the number written on the door. It turned out the landlord lives upstairs – and thankfully he loved my idea.
It's a really unique space. Have you kept lots of the original fixtures?
The landlord really cares about this building and what goes on in it. This used to be the oldest ironmonger in London! We've kept a lot of the original features. We didn't want to do anything like paint the walls because they're all part of the history, and that's what makes this space so special.
The windows were remodelled on a old drawing of the ironmonger shop the landlord had. They work really well for my store as light is the most important thing when you're running a plant shop - even though my store becomes a sauna when the sun's out!
How has being located in Hackney helped your business?
The people here are all really creative and open-minded. They also really love plants. We've got Broadway Market around the corner and Coloumbia Road Flower Market, which means we get a huge surge of customers on the weekends when the markets are on.
All the locals have been really supportive, they really appreciate new businesses in the neighbourhood. We get everyone from every age, job and gender coming here, and they all have different tastes and preferences. Whatever type of plant I get in I know someone will like it. That's when you realise how wonderfully diverse London is.
We also get approached a lot in the shop to collaborate, which is another reason this area is great; there's so many interesting people working and living nearby. In terms of marketing, everything comes from this store – I haven't had to reach out to anyone.
You've also built a large following very quickly on social media – any advice you can share here?
Well I think it has helped that plants have become a real trend, especially people wanting to have them in their offices and houses. On Instagram, there are plants everywhere! I get people tagging us all the time. However, I try to not bombard my followers with too much content. I just upload one picture a week. Partly that's because I don't have time to do anything more.
What hasn't come about so easily for the business?
Well, I think when you're running your own business you can't complain. But the hardest part is that fact that there's just two of us running this store, which means working all day, seven days a week. Employing someone else will be challenging – whoever they are they'll need to be an expert in horticulture, as passionate as I am, and also able to carry really big plants.
What can we expect in the future from Conservatory Archives?
I'd like to explore doing a few more pop-ups in areas further away from our store and an online store is something we want to test out too. At some point, I also want to create a big project that I can show off. Something like bold planting, taking over big space like a public museum or underground station. The plants you find in these locations are normally quite boring, so I want create something wow and show how indoor gardening can make a difference.