Going it alone: In the kitchen with James Cochran
23 Jul 2016
A new BYOC has opened its doors, and this time there's food involved. BYOC Soho has partnered with James Cochran, the chef who helped turn Ledbury into one of the best restaurants in the world, to blend their a speakeasy vibe with Michelin-level food.
This is James's third solo foray after launching a series of pop-ups called Camberwell Love and the Hackney-based restaurant FIX. As well as enjoying BYOC cocktails, visitors can indulge in everything from a seven-course tasting menu to small bites and bar snacks. We caught up with Cochran to find out more…
Hi James. Tell us about where it all started?
Since I was nine, I knew I wanted to be a chef. I started out working in restaurants in Whitstable. London was never part of the long-term plan. Back then I wasn't interested in opening my own restaurant – way too much pressure! But that's all changed now. I guess, ultimately we all want our own business and to have somewhere to show our work.
What made you decide to go it alone?
I did a pop-up called Camberwell Love, which triggered it. I realised I wanted to have my own space, and I didn't want to go back to working for anyone else. After Camberwell Love, I took another space on Morning Lane and launched a restaurant called FIX. I liked the area and the idea of doing something different there, so I created a seven-course tasting menu. However, it turned out Hackney wasn't ready for that yet, and I struggled to get the people through the door.
What did you learn from it?
Essentially, I was a bit naive at that point. I knew I had a great product and just assumed it would be a success. Although FIX didn't work out, I did learn a lot from the experience. It also led me to what I'm doing right now. And that's what it's all about: sometimes you have to fail to succeed.
How did the BYOC ft. James Cochran partnership come about?
Aleksey who runs BYOC – bring your own cocktails – first came to FIX because he was interested in hiring the space off me. I got a message a bit later asking if I wanted to team up on another project: BYOC Soho. I thought the concept was niche. His new space is right in the heart of Soho. I loved the idea of serving up great food for a decent price here.
How did you come up with the menu?
My menu works very closely with the season. I've stripped it back and worked with suppliers to get the best produce and let that product speak for itself. I developed my menu over the knowledge I've gained being in the game.
How's the food scene changed since you've been working in London?
London's food scene is a joke shop at the moment. Food is in fashion, which is great but it means it's everywhere. I do love street food and being able to enjoy good food outside, but in London now there's too much going on, and the quality isn't always there.
It is also everywhere you look on Social Media... how's that impacted you as a chef?
Social media has changed everything. It's so important for chefs to be on it. If you want to succeed when you go at it alone, you need to make a name for yourself so people will come find you. I learnt that from FIX. If you're serving up Michelin-star kind of food, you've got to have a name before people spend £70 a head for it.
Social is also important because that's where the 'critics' are. Everyone's becoming one. And that's tough because you get people who don't anything about food posting a review. Whether they're right or wrong, they're influencing opinions.
Ok, so let's hear it from you – what is the best dish at BYOC?
Judging from the reviews, it would be the smoked salmon. Although I had to develop the recipe because I can't stand the taste of salmon. This dish is my way of getting around that. My personal favourite is the buttermilk chicken, or the scotch eggs. However, I'll let people make that decision themselves.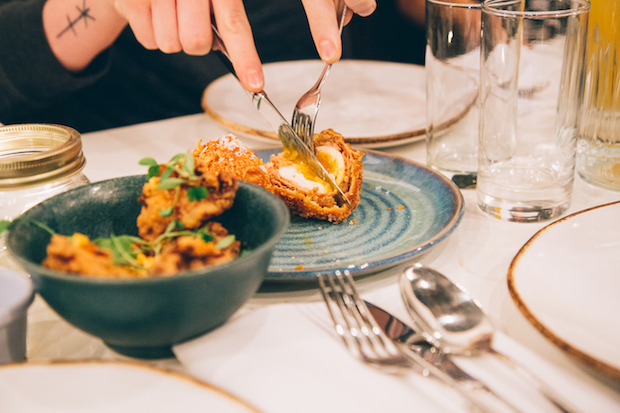 Discover BYOC ft. James Cochran on Great Windmill Street, Soho.
Related Articles
Fashion & Food: A winning partnership
Behind Closed Doors: Supper Clubs and Underused Spaces
Monograph: How to start a successful supper club