The Up Market comes to Westfield
19 Aug 2016
This September, we've partnered with Westfield to bring you the Up Market: a collection of London's most exciting makers, crafters, designers, and creators. This is a dedicated space within one of the world's biggest shopping malls for independent brands to showcase their ideas. Located on 'The Street' at Westfield Stratford, the market will run every Friday to Sunday until the end of September. This one's for the little guys.
Appearing this weekend: Candy Kittens, Astrid and Miyu, Meringue Girls, Malee, Jollie Good and Confection Cub. Check out what they've got going on…
Candy Kittens
Founded by Made in Chelsea's Jamie Laing, Candy Kittens was one of the brands to use Appear Here. Since their first pop-up on the King's Road, you can now find their health-conscious candy in some of the UK's top stores including Harvey Nichols, Fenwick, Topshop, Selfridges, Waitrose, Sainsbury's, and Tesco. Their flavours include playful twists on British classics such as Eton Mess and Lemon Sherbet.
Astrid & Miyu
Astrid and Miyu both mean beautiful in Swedish and Japanese. The jewellery brand combines Nordic minimalism, Japanese craftsmanship, with a London edge. And it works. Last year, the UK Jewellery Awards shortlisted them as the 'Brand to watch'.
Meringue Girls
The Meringue Girls story began in 2012. Founders Alex and Stacey met while working in a hot and sweaty, male-dominated restaurant. They hit it off from the start: "we bonded over our love of sweet things and saw a gap in the market with meringues. The market was crying out for an innovative, inspirational, colourful, girl power baking brand." Three years on, the girls have their own bakery in Broadway Market, a meringue-based cookbook, which has been published all over the world, and have their own team of Meringue Girls (and boys!).
Jollie Goods
Jollie Goods was founded by Ed Vickers, who after helping out at a homeless charity realised the serious demand for fresh pairs of socks. He saw how far a simple change of socks could go in looking after the foot health and hygiene of the visitors. From there, Jollie Goods was born. The concept is simple, for each pair of socks sold, another is donated to a local homeless charity.
Malée
Malée [pronounced Mah-lay] is a healthy, luxury fragrance and body care range created in South Africa. Malee's mission is to take you on a journey of discovery with powerful scents and a spa style experience, designed to awaken your senses.
Confection Club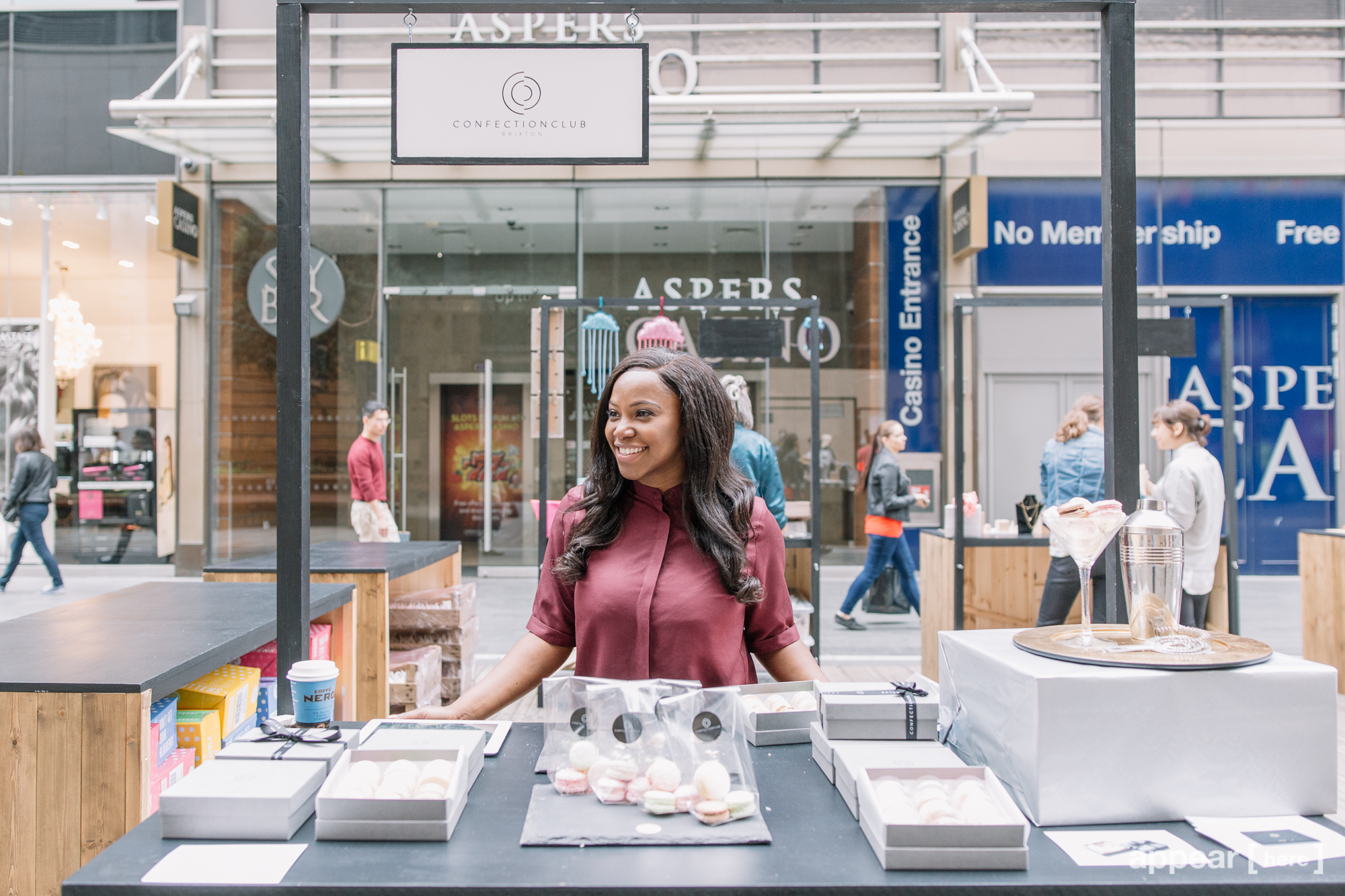 The Confection Club specialises in luxury confectionary, for more memorable moments. The founder was inspired by the patisseries he encountered in Paris and decided to recreate them in the UK. Confection Club specialises in unexpected and creative combinations, which can be gift wrapped and delivered to your home or work every month.
Book your space in the Up Market here.